Blankets full of prayers
Join our ever growing group of volunteers and knit, sew, quilt or crochet a Prayer Blanket for a child who needs comforting. Help us to meet our goal of 600 blankets a year!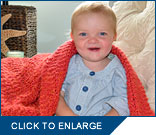 We have made a commitment to the Heart Center at the Children's Hospital Los Angeles to provide hand made Prayer Blankets for the children who undergo open heart surgeries each year. This is a huge undertaking as approximately 600 children a year receive life saving surgeries.
Blankets symbolize security and warmth. While we can't ease the pain and suffering that the children and their families endure we hope our prayer blankets can give some comfort to those who receive one. Our blankets are made by loving volunteers who, with every stitch, have said a prayer for your child's recovery. To know a complete stranger cares for your child and your family is a fine example of God's love and an unexpected gift like this can have incredible impact upon the receiver.
We invite you to become a Sadie's Angel and help us to give every child, upon their arrival to the Heart Center, a handmade prayer blanket. With your help we believe we can make our dream a reality.
The Prayer Shawl Ministry was started in 1998 by Janet Bristow and Victoria Galo, two graduates of the 1997 Women's Leadership Institute at The Hartford Seminary in Hartford, Connecticut. Compassion for those in need and the love of knitting/crocheting were combined into a prayerful ministry and spiritual practice.
Inspiration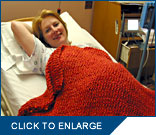 The inspiration for Sadie's Angels Prayer Blankets came from a beautiful hand knit prayer shawl we received from a lady in Nova Scotia, Canada whom we have never met. Nova Scotians are kindhearted and generous people and this very sweet lady drove a long distance to hand deliver the shawl to my mother and asked her to mail it to me in Los Angeles in time for Sadie's birth. She and my mother met at a writer's group workshop months earlier and while they shared in a brief conversation about grandchildren they were otherwise strangers.
I was very surprised to receive it in the mail a few weeks later. When I wrapped it around me I immediately felt peace and comfort - in fact the shawl gave me such comfort that I brought it with me to the hospital during my delivery for Sadie. I placed it over her bed during each hospital stay. Every time I looked at it I smiled and knew that someday I would do something in return to thank her and while I have not been able to thank her in person, I know she would be pleased that her act of kindness has inspired us to create a prayer blanket ministry for very special children at the Heart Center. I will never forget this act of kindness. I know how meaningful it is to receive an unexpected gift like this and what it will mean to the children and their families when they receive a hand made baby blanket.


Patterns and Prayers for the Baby Blankets
We have included 2 examples of easy to knit baby blanket patterns for your use - if you have other patterns you would like to use that is fine. If you prefer quilting or crocheting we welcome handmade blankets of any style.
Puffin Baby Peek a Boo Blanket
Easy to Knit
Size: 24" wide x 28" long
Download Word Doc. »


Bunny Hop & Bamboozle Baby Blanket
Easy to knit
Size: 29" wide x 32" long
Download Word Doc. »

While you are making these blankets be sure to say a prayer for the healing and health of the child.
Download PDF »


Donate wool and supplies
If you would like to donate wool and supplies for the blankets please contact us - we would greatly appreciate it.


Please let us know that you have made a prayer blanket so that we can keep track of how many are made each year. We would be happy to supply mailing labels and wool if you need it. If you would like to take a photo of yourself while you are knitting the blanket we will post it on our website.
The blankets can be mailed to:
Childrens Hospital Los Angeles
c/o Sharon Wagner-Lees
4650 Sunset Boulevard, Mailstop # 34
Los Angeles, CA 90027